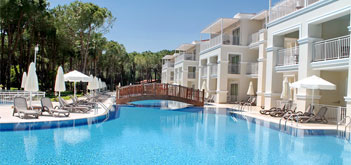 Bellis Deluxe Hotel, owned by Çalışkan Kardeşler Group Companies, is located in Antalya Province, Kadriye Town, Belek Tourism Center, Taşlıburun site. It is 42 km away from Antalya city center, 32 km from the airport, 3 km from Belek and 5 km away from Kadriye Town.
Five-star Bellis Deluxe hotel is constructed on a land of 135 decares. It started offering service in July 1992 with 650-bed capacity and today it has 1200-bed capacity.
Bellis Deluxe Hotel offers a special living area that suits all tastes and a different holiday understanding with its total 556 rooms and different room options that combine comfort and luxury.
Family and suite rooms and lagoon rooms from which you can directly plunge into the pool or lake rooms with pool view, villa options with distinctive VIP services as well as standard rooms offer you a wide range of options when creating your holiday plans.
Our hotel, in touch with the nature, has been decorated in a modern style with its architecture and landscape plan.
The aqua park, located on 3000 m2 area, is so big and diverse that not only children, but also adults will enjoy it. Space Hole, Multi Slide, Big Black Hole, Rafting are some of the slides. Furthermore, the 5 pools give you the opportunity of enjoying pool pleasure at all parts of the hotel all day long.
Our hotel also has a zoo which hosts various animals and a riding club.
| | | |
| --- | --- | --- |
| Head Office | : | REŞİT GALİP CADDESİ RABAT SOKAK NO: 9 G.O.P / ÇANKAYA / ANKARA |
| Telephone | : | 0 312 447 66 00 (Pbx) |
| Fax | : | 0 312 447 66 08 |
| Web | : | www.bellis.com.tr |
| Email | : | [email protected] |
| | | |
| Address | : | Taşlıburun mevkii , Belek – Antalya – TURKEY |
| Telephone | : | (00 90) 242 710 2100 |
| Telephone | : | (00 90) 549 541 8001 |
| Fax | : | (00 90) 242 725 4290 |
| E-Mail | : | [email protected] |